Seeking help for the management of any condition, diagnosis or ailment can be a tricky path to navigate. In addition to a range of health and well-being services, The Body Refinery has a number of experienced Exercise Physiologists (EP) and Physiotherapists who can get you onto the road to recovery.
The question is…
Should I see an EP or a Physiotherapist for my condition?
The answer…
It depends!
To best answer this question, we'll first outline the difference between an and a Physiotherapist.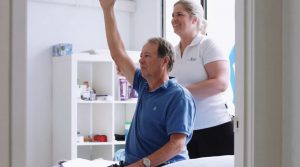 Let's start with the similarities.
Both professions are considered Allied Health Practitioners. This means their credentials and skill-set utilise evidence-based research and uphold practices that are held to the highest standards.
Both professions are supervised by governing bodies that are frequently audited for a standard of practice and effective management of disease or disability.
Physiotherapists fall under the umbrella of the AHPA (Australian Health Practitioner Association), while EPs are overseen by ESSA (Exercise and Sports Science Australia). Membership to either of these bodies requires annual professional development of skill-sets and upstanding service by the certified practitioner.
Exercise Physiologists (also known as Accredited Exercise Physiologists or Clinical Exercise Physiologists) and a Physiotherapist each hold, at a minimum, a 4-year undergraduate degree, specialising in anatomy, physiology and biomechanics.
EPs further specialise in chronic disease management and exercise as the main adjunct to therapy, whereas Physiotherapists accumulate specialised skill-sets which allow them to provide manual therapy techniques as the main management for musculoskeletal conditions.
Physiotherapists train to provide adjuncts to healing, using manual therapies. Not all patients will require manual therapy, just as not all patients will require exercise for their treatment plan. Depending on the severity of the condition and the personal preferences of the client, a patient may benefit from both types of therapy!

I have a pain/condition/issue that hasn't been diagnosed. Who can help?
A Physiotherapist can diagnose musculoskeletal injuries. They can assess the severity through manual testing and, if necessary, will send a patient for scans such as an MRI or an ultrasound to further investigate the root cause of the condition. Physios will typically work with clients who are in 'acute' stages of pain or require consistent management over the short or medium term.
An EP specialises in the management of long-term chronic musculoskeletal conditions (acquired through an injury or lifestyle situation like pregnancy or recovery from surgery) and certain diseases (excluding communicable diseases).
EPs work closely with other conditions that fall outside of musculoskeletal ailments – they are trained in managing exercise for cancer, cardiovascular, pulmonary, metabolic, neurological, pregnancy/postpartum and mental health conditions. EPs specialise in getting people back to feeling normal after a diagnosis has been made regarding their health status.
Exercise training under the supervision of an EP is the safest, most effective form of increasing fitness and ability to perform all activities of daily living without pain or discomfort.
EPs are also trained in strength and conditioning – if your goal is to become fitter, faster and stronger (whether or not you are experiencing pain or have an injury) – EPs are highly educated in performance training for athletes and non-athletes alike!

The main difference between an EP and a Physiotherapist is…
EPs specialise in exercise.
The Body Refinery's Physiotherapists and EPs work closely with one another to provide the highest quality of care to their clients. We understand that what works for one person may not always work for another, so we are constantly collaborating and sharing knowledge and expertise to ensure each client's treatment plan is tailored to them to provide the best outcome. This includes making sure that clients are working with the correct type of practitioner to best manage the outcome of their condition.
The Physiotherapy-specialised classes offered at The Body Refinery:
The Refined Runner
Kneehab
Mum and Me Conditioning
Pregnancy Conditioning
Balance and Falls
The Exercise Physiology-specialised classes offered at The Body Refinery:
Better Bones
Age-ility
PD Warrior
Strong Mums
Power Pregnancy
Strength and Conditioning
If you are unsure what kind of practitioner you should see, call our friendly admin team today on 3358 3915. They will help guide you to the correct practitioner for your condition or physical goals.
_ _ _
blog written by Exercise Physiologist Tori