Is your active child complaining of heel pain? Have they started walking more on their toes? They may be suffering from a common paediatric condition called Sever's disease.
Sever's is an overuse condition many 8-14 year old children suffer from, being most common at 8-10 years old for girls and 10-12 years old for boys. It occurs when the Achilles tendon pulls on the growth plate at the base of the heel and becomes inflamed. The calcaneus bone is not fully developed until around 14 years of age. Until then the pressure put on the growth plate, particularly with high levels of running and jumping can cause it to become inflamed and painful.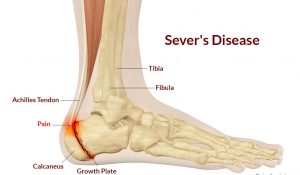 Luckily there are some easy things that can be done to help manage this condition. 
load management and rest, your osteopath or physiotherapist can help to guide you with what is appropriate. 

cold therapy 20 minutes on 10min off 20 minutes on, particularly after activity. 

foam rolling the calf muscles

spending less time barefoot or using heel cups and cushioning shoes.
If this sounds like your child could suffer from Sever's Disease, our team is here to help! Book in with our Osteopath or one of our Physiotherapist's for treatment now.
_ _ _
Come and see what an osteopathic approach can do for you or your child. Natalie is available for appointments Monday, Tuesday and Thursday at The Body Refinery.
Book today to experience the benefits of Osteopathy through our App or on 07 3358 3915.