While bones feel solid, the inside of the bone is actually filled with holes like honeycomb. Our bones are constantly being remodelled – old bone is removed and new bone is formed. As we age, we begin to lose more bone than we build. This can result in a condition called osteoporosis. The tiny holes within the bones get bigger, and the solid outer layer becomes thinner. In other words, our bones get less dense. This makes them more prone to fracture, even from a minor bump or fall. The most common fracture sites are the spine, wrist and hips. Fractures in the spine reduce the height of the vertebrae and can lead to a stooped or hunched posture called kyphosis, reduced mobility, pain, balance problems and increased risk of falls.
What are the symptoms?
Osteoporosis is often described as a 'silent disease' because there are no symptoms. Often people aren't diagnosed or treated for osteoporosis until they sustain a fracture.
Who is at risk?
There are certain risk factors for developing osteoporosis. These include:
Female sex
Certain medical conditions and medications (e.g. thyroid problems, rheumatoid arthritis)
Family history of osteoporosis
Calcium and/or vitamin D deficiency
Sedentary lifestyle
Smoking
Excessive alcohol consumption
If you are over 50 and have any of these risk factors, speak to your doctor about having a bone density scan.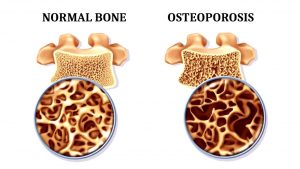 How is it treated?
Medication and lifestyle changes are the main forms of treatment for osteoporosis. Exercise is also very important. Current guidelines recommend a combination of weight-bearing exercise, resistance training and balance training. Exercise programs should be performed regularly (at least three times per week), challenging, progressive, varied and individualised to the person.
Pilates for osteoporosis.
People often overlook Pilates as an exercise option for the management of osteoporosis, probably because they are only thinking of traditional mat exercises. However, Pilates can also be performed on specialised equipment such as the Trapeze Table and Reformer. This type of equipment-based Pilates incorporates weight-bearing and impact activities which can improve bone mineral density. A recent study in postmenopausal women with osteoporosis found a significant increase in bone mineral density in the lumbar region following a clinical Pilates program.
Equipment Pilates can also help to build muscle strength by adding resistance in the form of springs. Other benefits of Pilates include correction of postural changes, reduced pain and improved mobility, balance and coordination.
If you have been diagnosed with osteoporosis or low bone density, make an initial physiotherapy appointment at the Body Refinery today. Our physiotherapists will perform an assessment and design a safe, effective and individualised clinical rehab program incorporating both Pilates informed exercises and traditional rehabilitation exercises to improve bone density, strength, posture, balance, coordination and reduce the risk of falls.
_ _ _
Book today to experience the benefits of Pilates through our App or on 07 3358 3915.
Follow us on Facebook, Instagram and Twitter for a daily dose of Pilates and Wellbeing.