Ageing is commonly defined as the accumulation of diverse detrimental changes occurring in cells and tissues with advancing age, which is responsible for increased risk of disease and death. It sounds dramatic but we are mortal beings and from the day of conception the process of ageing begins. But ageing doesn't necessarily have to lead to a decline in health and wellbeing or a decline in cognitive function.
Despite many people's beliefs, dementia is not an inevitable part of old age. While dementia is associated with non-modifiable factors such as age and genetics, an estimated 35% of dementia cases are related to modifiable factors, in particular the amount of physical exercise a person performs.
Physical exercise is beneficial for the management of risk factors of dementia, such as: diabetes; hypertension; and obesity. Physical exercise also has a positive effect on sleep and mood. In a study done in 2019 (Spartano et al) it was found that an hour of light-intensity physical activity was associated with one year less of brain ageing, which is believed to be as a result of the decrease in inflammation and oxidative stress. Studies undertaken in 2020 (Alty et al and Law et al) showed that physical exercise increased new brain connections by making new neurons, and decreased cognitive decline.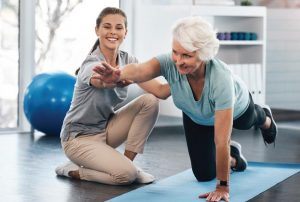 Ageing decreases reaction time, muscle strength, coordination and balance. Exercise programs that include strength, balance and functional exercise can improve mobility in ageing. Studies have shown that high-intensity programs that include balance, strength and functional exercise of 30-60 minutes, 3 times a week, will improve the overall wellbeing of ageing individuals, and improve balance and strength in those with the early signs of dementia.
As we age the risk of falls also increases due to decreases in reaction time, muscle strength, coordination and balance. Exercise intervention that includes balance and functional training, along with strength training, assists in the prevention of falls.
The Body Refinery has developed a program called Age-ility that is focused on decreasing the effects of ageing and the risk factors of dementia while improving quality of life. Further information is available from our website, or by calling the studio.