Hip pain is very common and can result from numerous different causes. Hip pain tends to occur commonly in two distinct age groups: the young (from 0 to 15 years); and the older population (>45 years of age). 'Hip' pain is usually located in the groin, upper thigh or buttock, but may also be somatically referred from the lumbar spine.
The most common causes of hip pain in adults are:
Osteoarthritis of the hip (>50 years)
Lower back problems
Fracture of the femoral neck
Traumatic muscular strains and bursitis or tendinitis (sport-active adults)
Infection – septic arthritis, osteomyelitis
Malignancy
In children and adolescents, the common conditions leading to hip pain are:
Congenital dislocation of the hip
Perthes' disease: (4-8 years) necrosis (tissue destruction) of the femoral head due to lack of blood supply.
Slipped capital femoral epiphysis (SCFE)
A recent study estimated that nearly 25% of the population will develop symptomatic hip arthritis before the age of 85. Risk factors for the development of arthritis are now well established and include femoral acetabular impingement, labral tearing, developmental dysplasia and slipped capital femoral epiphysis. As our understanding of hip pathology evolves, the focus is shifting to early identification and treatment to prevent or slow the progression of hip conditions.
The challenge for general practitioners and physiotherapists alike is to elucidate whether an individual's hip symptoms originate from intra-articular disorders or from the surrounding extra-articular soft tissues and to target treatment accordingly. Optimal patient care is best achieved with a multidisciplinary approach involving education on lifestyle factors (diet, activity modification), medications, and physiotherapy.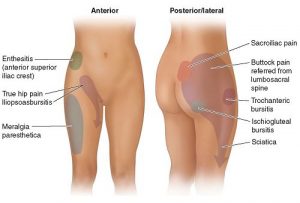 How can we help with your hip pain?
The Body Refinery's physiotherapists are skilled in the assessment and treatment of hip conditions. We understand that the successful management of hip pathology requires thorough examination of the hip joint, as well as adjacent joints, including the sacroiliac joint and lumbar spine. Additionally, our physiotherapists undertake a thorough biomechanical analysis of the affected lower limb to determine any underlying issues that may be predisposing the individual to their hip problem.
Physiotherapy aimed initially at improving hip pain and flexibility can be expertly progressed to exercise therapy. This with a strong focus on optimising lower limb biomechanics, thereby reducing the risk of re-injury and encouraging a return to work, sport and activities of daily living.
Essentially exercise therapy should be individualized and patient-centred, taking into account factors such as patient age, mobility, co-morbidities and preferences. An assessment of specific impairments such as strength, the range of motion, aerobic fitness and balance are needed to determine the most appropriate exercise regime.
Pilates can help you
At The Body Refinery, once any manual therapy has been carried out to aid hip mobility and/or reduce painful impingements, our physiotherapists use a progressive, individualised treatment program to correct any aberrant movement patterns, instability or poor mechanics that overload the hip or adjacent areas. Clinical Pilates is an excellent form of exercise for hip rehabilitation.  Pilates is a progressive form of exercise that can be individualised and progressed to suit the individual's rehabilitation needs. Pilates focuses on the alignment and function of the lower limb. As a collection of exercises, it also allows the body to be trained functionally.
The Body Refinery's physiotherapists are also trained Clinical Pilates instructors, making The Body Refinery Pilates studio the ultimate environment to take clients from acute pain back, through to function, and into performance.
_ _ _
Book an appointment with a physiotherapist today on 07 3358 3915 or info@thebodyrefinery.com.au
Follow us on Facebook, Instagram and Twitter for a daily dose of Pilates and Wellbeing.